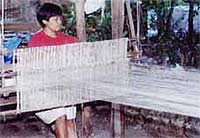 Lilibeth Industries is a private company that processes high quality natural fibers to be made into handwoven textiles. Ours is a business that guarantees customer satisfaction in terms of quality and on-time delivery.
We have other product lines like raw sinamay fibers, raffia, packaging items, bags, sandals and flower accents all made from natural materials woven of non-woven.
It all started in 1998 when a friend came looking for suppliers of sinamay. That particular inquiry took us on a journey in the neighboring islands here in the visayas. Luckily, we were able to meet someone who has a very good quality sinamay. Because of the abundance of our quality sinamay stocks we ventured from local supplier to being international.
At Lilibeth Industries, we do to the best of our capabilities to deliver satisfactorily what is being asked from the client's end. Helping to accomplish our client's goals for their success is a success that we share too. This is what drives to make our products to be quality and our service - committed to our customer's satisfaction.